Application :
KY-100 Box folding filling and packing machine can packing granule powder and some bag product packing in to the box and then sealing the box and output .Meanwhile according to different requirements of users,This machine can be change the different mold which assembly and commissioning is simple, So this machine suitable for mass production of a single species, but also to meet users of different varieties of small batch production.
Notice : As the quality of the box are influence the final packing quality .So this machine have a high requirement of the box quality .Normally the box should be use the paper which should be reach the weight 800g/m2-900g/m2..
Technical Parameter
Power of main machine :1.5KW
Power of output motor:0.37kw
Max packing speed :max 70box/min
Dimension :5500*3000*2100mm(L*W*H)
Weight of the machine :1.2ton
Rang of box dimension: (for different size, need to change the filling hopper and the forming boxes)
500g:230×45×160mm(L*W*H)
200g:120×40×160mm(L*W*H)
140g:110×30×150mm(L*W*H)
Sealing type: hot melt sealing (Nordson)
The working principle and process:
The machine uses a complex series of drive, mimic human movements to automatically take boxes, open boxes, folding, filling and sealing boxes and other processes. The machine works as follows.
Manually setting the box board ---Machine automatic take the box ---Automatic folding the bottom side of the box ---Bottom side gluing ---Bottom side sealing ---Material filling ---Vibrating material ---Upper side folding of the box ---Upper side gluing ---Upper side sealing ---Box pushing --- Finished product output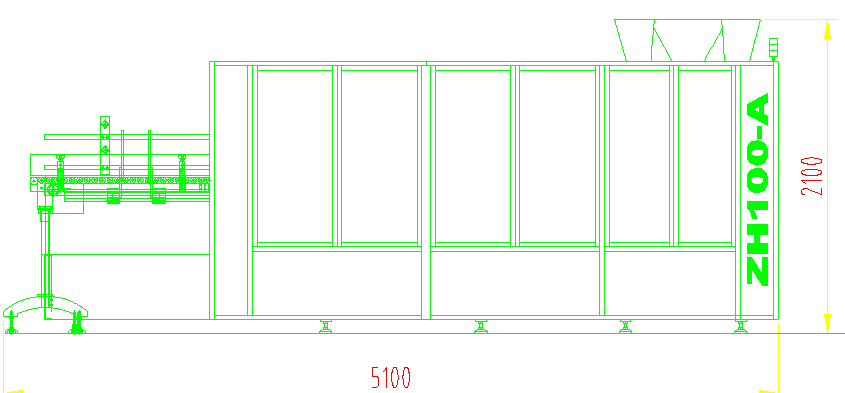 Configuration Checklist
| | | |
| --- | --- | --- |
| ITEM | Brand | Place of origin |
| PLC | Siemens | Germany |
| Touch Screen | Siemens | Germany |
| Electronic control panel | Zengran | China |
| Main motor | SEW | Germany |
| Conveyor motor | Chuanghong | Hangzhou |
| Vacuum pump | Jiuxin | Shanghai |
| Transducer | Delta | Taiwan |
| cylinder | AirTAC | Taiwan |
| Air service unit | Airtac | Taiwan |
| solenoid valve | Airtac | Taiwan |
| contactor | Schneider | France |
| Motor circuit protector | Schneider | France |
| | Schneider | France |